Create New Apple ID Without Credit Card
Deprecated
: The PSR-0 `Requests_...` class names in the Requests library are deprecated. Switch to the PSR-4 `WpOrg\Requests\...` class names at your earliest convenience. in
/home/u653698257/domains/electroitem.com/public_html/wp-includes/class-requests.php
on line
24
If you have recently purchased a new iPhone, the first challenge you'll create new Apple ID without credit. You'll need an Apple ID for almost everything on your iPhone. This is a step-by-step tutorial for beginners. This is the simplest method to create new Apple ID without credit card.
Step-By-Step Create New Apple ID Without Credit
First, go to Settings. When you open settings, you'll notice that you are getting an option to sign in to your iPhone. And the reason why you are getting this option is that you are not yet logged in with your Apple ID on your iPhone. And That's fine because you have yet to create an ID, right?
So, simply tap here. And this will open an interface where users may enter their Apple ID and password to sign in to the iPhone.
However, since you don't have an Id yet, you'll simply ignore this and tap here instead which says, don't have an Apple ID or forgot it.
When you tap on that, you'll notice that you'll get options like Create Apple ID, Forgot Apple ID, and Cancel.
You simply need to tap on Create Apple ID. And this will open the creation page where you need to fill up details like First name, last name, and date of birth.
Now write your first name, then your last name, and after that a random date as your date of birth.
I would recommend you to enter your real date of birth because you might need it later for verification purposes and remembering this will come in very handy.
Alright! Once done with that, tap next, and on the next screen, you'll need to enter an email address that you want to set as your Apple ID.
If you have already got an email address from other service providers like Gmail, Outlook, etc. then you may use that as well to create your Apple ID. In other words, it doesn't have to be a brand-new email address.
However, if you don't want that, and instead you want a brand-new email address as your Apple ID, then you may simply tap the "don't have an email address" option and then tap "Get an iCloud email address". The good thing is that it also allows you to create a free iCloud email address with 5 GB of free iCloud storage space.
Once you tap on that, you may enter your desired email address here, and then, tap Next.
As soon as you tap Next, I get this error message that says, "Email address taken". Further, it also explains that "Your Apple ID could not be created because this email address is no longer available. Please choose a new one".
So it's worth noting that you can only create an iCloud email address that's unique. You can't just create any random email address because the email address you select for your new Apple ID is subject to availability.
Since this iCloud email address is already taken, you'll edit it and try to create a different one.
Now check if it's available this time. So tap Next. And as you can see, it will provide you with an option to Create an Email Address. That means this iCloud email address is available. And if I tap Create Email Address, this will become my new Apple ID.
So simply tap Create Email Address. And this will ask you to enter a password that you want to set as the password for your new ID.
Just in case you don't know, the minimum requirements for an ID password recommended by Apple are. Your password must be at least 8 characters long and should include a number, an uppercase letter, and a lowercase letter.
So choose a strong password accordingly for your new ID, and then re-type the password here to verify it.
Once done with that, tap Next, and this will start the process of creating an Apple ID.
Sometimes, you might also get a pop-up asking you to verify your phone number. This is just for verification purposes.
You may either tap continue to verify with the same phone number which is currently in use on your iPhone. Or you may also choose a different phone number for verification. Then simply tap and continue to proceed.
And now, you have got these terms and conditions in front of me. So, I'll simply scroll down and tap Agree.
By the way, if you have some free time. You may read the terms and conditions to know What are the terms you need to abide by? Because, after all, these terms will keep changing and these big tech companies like Apple, Google, etc. will never let you use their services without agreeing to their terms of services.
So tap Agree, and then tap again to confirm it. Now, as you can see, we are signing in to iCloud. That means, our new ID is created now, and we are currently signing in to iCloud.
And now that your ID is created, you can use it to download apps. And also do other things that previously you were not able to do on your iPhone.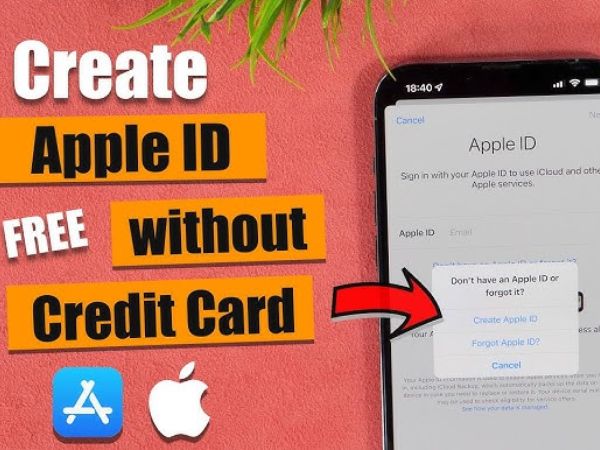 So that's how you can create new Apple ID without credit card as a Beginner.
Want to get more knowledge click on this link