Dell XPS 15 VS Macbook Pro
Deprecated
: The PSR-0 `Requests_...` class names in the Requests library are deprecated. Switch to the PSR-4 `WpOrg\Requests\...` class names at your earliest convenience. in
/home/u653698257/domains/electroitem.com/public_html/wp-includes/class-requests.php
on line
24
Two of the absolute most talked about computers in the productivity laptop space. Dell XPS 15 VS Macbook Pro lineup are equivalent lines when you look at either mac os or windows. When you start talking about your own computing needs so when we compare them against each other it comes out on top. Let's find out. This is really like both of these computer brands might not like everything.
They make but I can objectively say that they both make good products and no neither company nor anyone else provided me either of these laptops neither loaned nor any other method.
Specs And Ordering Of Dell XPS 15 And Macbook Pro
These are two very different machines. Let's quickly go over the specs and ordering information because it might not seem like it from looking at them. But these might be the two most single customizable laptops in either of their brand's product lineup. First off let's talk about the MacBook Pro 14.
The base model cheapest that you can get this for is 19.99 for that money. You'll get the eight-core m1 pro, processor 14 core, GPU 16 gigabytes of unified memory, and a 512-gigabyte solid-state drive that's also the model that I own and I would probably say. If I was recommending the MacBook pro 14.
This is the model that I would recommend inside of that purchase screen though there are a ton of different CPU options ranging from that eight-core m1 pro to a 10-core m1 pro. And even the craziest of all the 10-core m1 max processor with a 32-core GPU.
You can also bump this up to 64 gigabytes of unified memory and an 8 terabyte solid-state drive. And if you want the beefiest MacBook pro 14 that's going to cost you 58.99 or for some context just a little bit more than a brand new Yamaha r3 yikes. But if you think that's the only expensive laptop today. I have some sobering news for you, my friend.
'The Dell XPS 15 does have a lower-end base model compared to that MacBook Pro. And you can get that base model for 12.99. Yeah, almost an 800 difference for that base model. You'll get the six-core intel i5 11400h processor, integrated Intel graphics, 8 gigabytes of ddr4 ram, and a 256-gigabyte solid-state drive. Like the MacBook though there is a ton of customization.
And upgradeability from the ordering menu itself. You can go up to an 8-core i9 processor dedicated to Nvidia RTX 3050 ti graphics card. And then speccing this out all the way will also include 64 gigabytes of ddr4 ram and an 8 terabyte solid-state drive plus additionally. You can spec into a UHD plus panel instead of the standard fhd plus display. And that maxed-out version will cost you 48.99 or roughly the same as a 2022 honda CBR 300r.
Yes, the dell XPS 15 is already a thousand dollars cheaper but you could also make it cheaper. Because you can upgrade some of the XPS yourself. You can upgrade both the ram and internal storage on this laptop. And a quick check on Amazon shows that the ram would run about 245 bucks and two four terabytes solid state drives would run about eleven hundred dollars for a total.
When you do this yourself and you buy the top-of-the-line processor graphics card. And all that 3 600 bucks team that's a ton of savings. And I like that you can do this on your own, you can customize it yourself. That's a huge benefit of most Windows laptops. Okay, we've got the specs out of the way and before we even start the physical comparison it looks price-wise. The dell XPS 15 is pretty far ahead as you can save so much cash. But let's not count your chickens before they hatch though.
Let's next talk about physical construction. Both of these computers are absolutely at the top of what I like about physical laptop design. They are both very sleek and very small. This is a 14-inch laptop so slightly smaller than the 15-inch XPS. But they are both able to easily fit inside of normal backpacks and neither is so heavy that it would be a burden to carry for long periods over on the MacBook side.
You will get that full aluminum construction that we're used to from previous models. But this particular laptop along with that MacBook pro 16. They're slightly wider this year than in the previous generation. Now what that thickness buys you is a ton of additional o. And you'll find an HDMI port sd card slot and three USB-C thunderbolts 4 capable ports.
I love that and I hope more computer manufacturers will make their lineup more usable without necessarily only focusing on how small. They can make laptops that Dell XPS 15 doesn't do terribly in this regard either. It also has Thunderbolt 4 ports specifically. It has two Thunderbolt 4 and one USB 3.2 port plus. You'll get an SD card slot here. What I do like with the dell though is even though previous models had HDMI and USB. And they've taken those away. They do provide the dongle in the box that gives you that kind of capability at the very least.
If you're going to take a port away. I appreciate you giving me some way to use that still without charging me. For it, I've got to buy a dongle here if I want us. It just comes in the box with the Dell. I like that when we talk about the rest of the body I have to give it to the Dell XPS 15.
Keyboard
I love how the dell XPS 15 computers look and how they feel this carbon fiber shell that they've got on top of the keyboard face is the best looking and best feeling body. That I've thus far seen in all of the laptops that I've checked out in the past two years the MacBook isn't bad.
And I do like the full aluminum look contrasted against. It's a black keyboard layout but that dell XPS body is just nah chef's kiss. It's best to talk about those keyboards. This part is going to be better for different people. Here it is going to be it's going to depend on what kind of keyboard you like to type on the MacBook keyboard is a little clickier. And it feels like there's a little bit less travel but it's a very refreshing and easy keyboard to type on.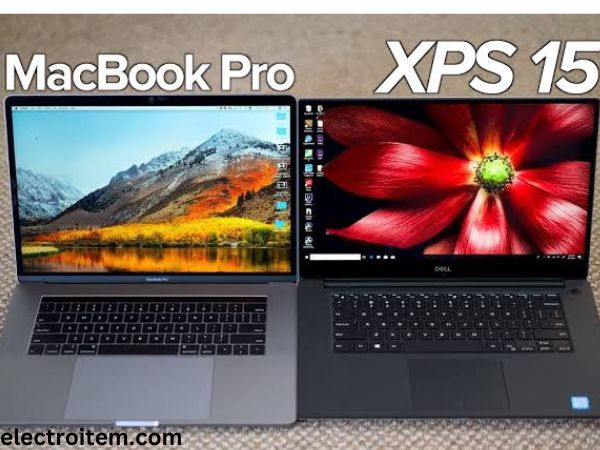 The XPS keyboard is a lot more fluid. It feels a little squishier but I don't necessarily mean that in a bad way. This is a very comfortable keyboard to work on and I enjoy typing long projects with it that's what I mean it's just that neither is bad. They're both just good in different ways personally. I think the new macs have the best keyboards that I've ever used. And I go out of my way to use the keyboards built into the body of this machine. When I can look above the displays though I'm sorry this is pretty clear-cut.
Yes, you can add 200 to your spec and get a 4k plus OLED touch screen panel on the Dell XPS 15 which looks pretty darn good. And you will get some of the smallest bezels that you'll ever see on a computer. But if you get that higher-end screen. So I won't dwell on that here the XPS 15 even with the fhd model which is the one I own is incredible. And you get a shocking amount of usable workspace with its 16 by 10 ratio plus.
There's almost nothing at the bottom of the lip. Here when you're working with the Dell XPS 15 the screen seems to almost just float in front of you. But the new MacBooks have the best laptop display that I've ever seen. And you don't have to pay extra for them. Here you'll get a display that has a one million to one contrast ratio of 120 hertz refresh a thousand nits of brightness. It's just gorgeous I'm telling you, this display is shockingly good and I'm sorry there's just nothing else that compares. Yes, you'll get a notch here where you do not get any kind of notch on the Dell XPS 15.
But for me, that's a minor cosmetic thing and it has not bothered me in the almost month that I've been using this. But I'll say it again the MacBook pro screens are the best. You're gonna find also on top of that screen both laptops have a built-in web camera and again here. It's not much of a comparison to the Dell XPS 15 has a 720p camera that to its credit does have windows.
Hello which is a very useful feature but if you need that camera for meetings. It's gonna look pretty bad 720p was fine in a world without as many teleconferences as we do today. But it's not okay anymore the MacBook pro will have both a 1080p camera and a camera that has a physically larger sensor inside of it. And while it doesn't look as good as say an iPhone or an iPad camera. It looks pretty darn good and I would consider this to be the best laptop-based web camera I've ever seen. We've talked all around the lap test.
Power Of Dell XPS 15 And Macbook Pro
Let's talk about power. Here's the thing: I have the eight-core m1 pro processor in my MacBook pro 14 and the eight-core i7 processor in the XPS. So both of these could have much higher performance. If you were to spec them out a little higher. So today I will not be making any objective number differences between these two you can see a quick benchmark test that I ran. But again that's not everything that these two machines are capable of what I will say though is the most important part of laptop power is not really in the raw power.
But it's in the usable power and a lot of that has to do with the thermal performance on hand for each specific laptop the MacBook works perfectly fine. And even from what I've seen from other actual benchmarkers using that top-the-line m1 max processor.
You only really see a loss in performance at the absolute extreme ends of use things that no one would do in any regular use scenario. However, the news is not as good for the Dell XPS 15. The thermal system inside of this computer just can't keep up with even the mid-range i7 processor. That I've got you can see here that when we're doing minor video edits or renders. It will reach a point where the processor is limited on clock speed due to heat. And doing benchmarks is the same way the issue is the XPS 17 while having roughly the same processors.
It also has a huge vapor chamber cooling system that easily handles the heat. The Dell XPS 15 does not have a vapor chamber. It has a more standard heat pipe system. And it just can't keep up now though will you notice a big difference. If you want a computer to do clerical type work. No, not, you'll never have a problem. But if you are looking for a media creation laptop. I'd probably point you somewhere else one thing that I do think Dell will do better in is gaming while it's not top of the line.
The RTX 3050 ti is pretty good for running older games or newer games at lesser settings. Now I'm not much of a gamer but in my short time playing a few games. The XPS works pretty well. The issue is while the MacBook has far more power it has to run x86-based games through its rosetta ii translation. And you will lose some measure of performance because of that and the last thing.
Battery Life
Now I want to talk about battery life and unfortunately, this again is a pretty cut-and-dry comparison. Dell says "Their XPS 15 can get 13 hours of battery life with the fhd plus model and the bigger 86 watt battery. But if you go the old route for the 4k touchscreen display. You'll have to take around four hours right off the top. And that's taking their numbers strictly at face value and since I'm doing that for apple. I'll have to do the same for Dell as well one thing to note though is that. If you are running this off the battery for any windows laptop.
You will not get the full power of the processor. You only get maximum power when plugged into the wall which kind of goes against the whole purpose of having a laptop right. If you're having a laptop and you're trying to do mobile work. You should be as mobile as possible over the MacBook.
You get fantastic battery life. They claim to get roughly 17 hours of life which has given me a ton of usable time over the past month of use. I rarely feel the need to change this. When I'm out and about and it's nice having one less thing to worry about I use this on a week-long business
trip and I think I only charged it two times. And we didn't do a lot of work off of it but not having to worry about it was so good plus. You'll get the full power of the computer when you are on a battery sitting in a coffee shop. Or sitting at your home office with a computer plugged in or sitting around a table collaborating with a team in all of those situations. You'll get the same power level and that's exactly what you should expect from a laptop.
If you want to buy these laptops so click on this link.
Macbook
Dell XPS 15